Product
Category
Communication Standards
PRODUCT DESCRIPTION
Development board equipped compact, low-power cellular IoT module "nRF9160" manufactured by Nordic Semiconductor.
FEATURES
To optimize the most energy-efficient cellular IoT solution on the market, "nRF9160", all the abundant I/O ports are fully integrated on the board. Power option is either battery or DC power supply (AC adapter), but it also comes with a charging circuit. Current consumption of each circuit block can also be measured individually. It is a "complete" Development board with almost all peripherals incorporated: Li-Po secondary battery charge discharge circuit, 8 switches, battery monitor, DCDC power supply, buttons, 2 full-color LEDs, various RESET circuits, and MIC/SP, etc.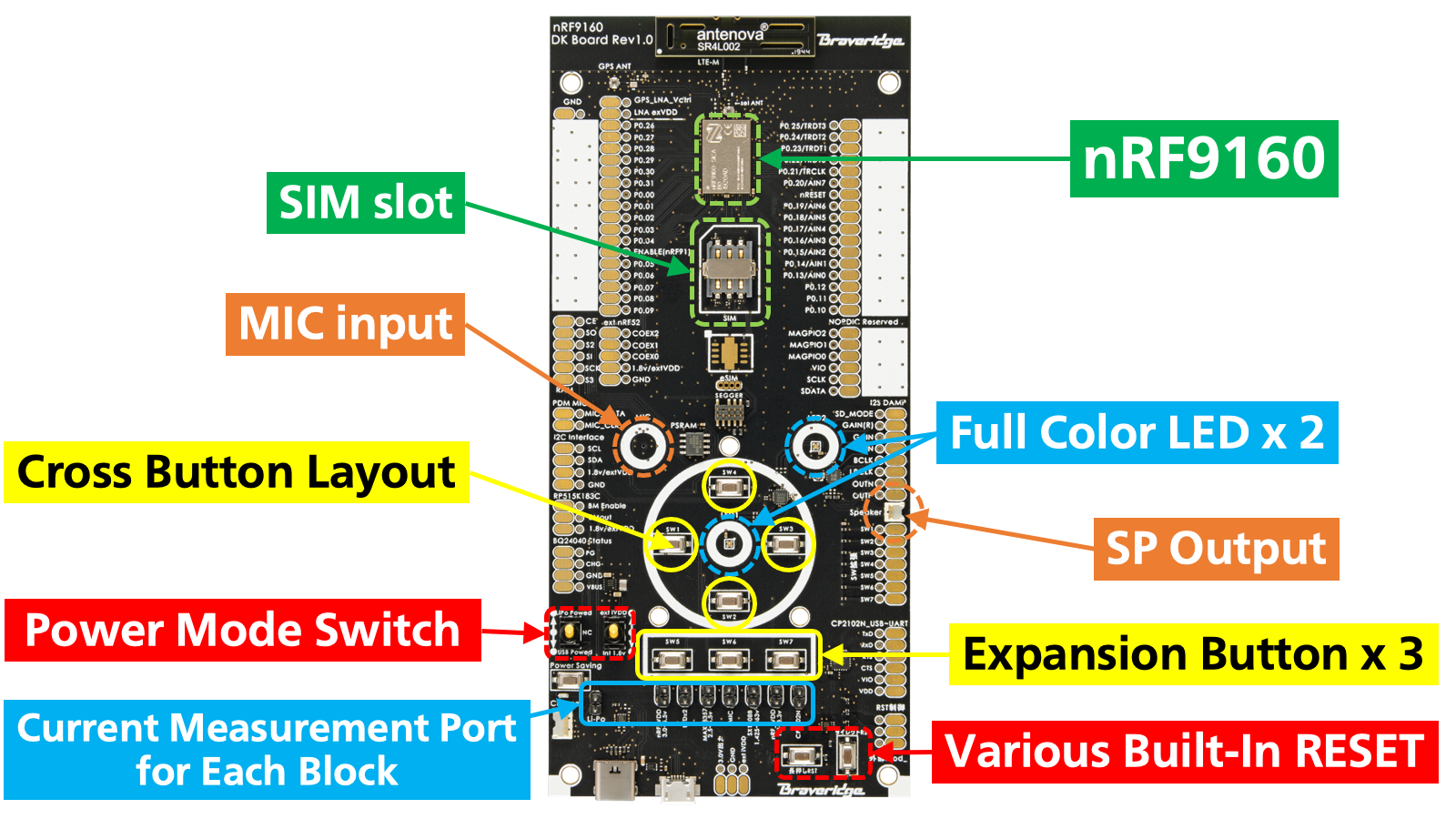 SPECIFICATION
Installed module
Nordic Semiconductor's nRF9160 lower power SiP with integrated LTE-M/GPS
Frequency Band(LTE-M)
B1/B3/B8/B18/B19/B26/B28
Transmission Power
(terminal output)
-40 to 23 dBm
LTE Antenna
Antenna integrated, external antenna can be used by connecting coaxial connector with switch
GPS Antenna
External antenna can be used by connecting coaxial connector with switch, LNA integrated
Power Supply
5V (USB Micro B and Type C) or supplied from external input terminal (iVDD_GPIO 1.8V to 3.3V, iVDD2 3.0 to 5.5V)
Jumper Pin
8 pin
Program Pin
9 pin connector for J-Link Lite Segger
Button
9 (7 general purpose buttons, 1 direct reset button, 1 long-press reset button)
LED
2 (full color)
SIM slot
nanoSIM (*SIM card is not included.)
Included Items
1 L-Link Lite Segger, 4 pan head screws, 4 steel spacers, 1 Micro USB cable, 8 jumper pins, 10 through hole test wires
Size
W 80.0mm x D 173.5mm x H 14.0mm
Certification
Telecommunications Business Law, Japan Radio Law
For details, please see the product specification.
Product specifications are subject to change without notice.
ELECTRICAL DESIGN CAD DATA
CAD data in project file format that can be edited with the electronic CAD software "Quadcept".
Quadcept Project File
QUOTATION
Click here to request a quote for this product.
Contact us