Product
Category
Communication Standards
PRODUCT DESCRIPTION
"BraveGATE" is an IoT platform that facilitates control of IoT devices via a network and overwhelmingly accelerates the development of service application.
Braveridge has redefined cloud IoT system from a hardware engineer's perspective.
"BraveGATE" is a platform that dramatically simplifies development and introduction of IoT systems with LTE, based on a new concept incorporating hardware. With the BraveGATE compatible product, LTE-BLE router "BraveROUTE", you can relay to multiple Bluetooth®terminals via LTE communication. Through applications, you can communicate and control multiple Bluetooth® terminals individually.
Bluetooth®communication is compatible with Long-Range mode of Bluetooth®5.0, which allows communication of 1km or more at the linear communication distance (without any obstacles). (Tested with "BraveTETRA" by "BraveGATE Experience Kit")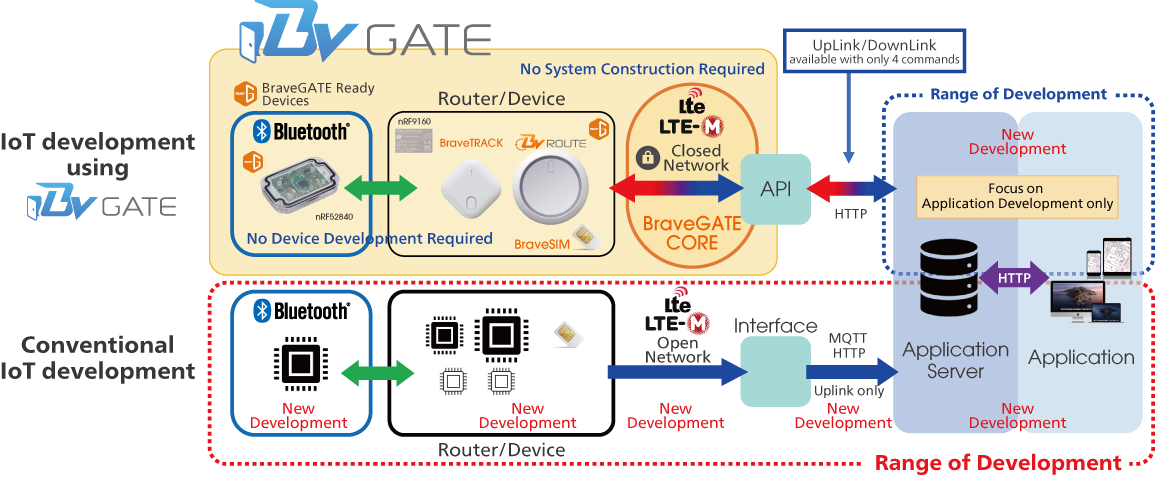 In the past, in order to realize cloud services, it was required to combine the provided parts and tools to build a system each time according to the needs. BraveGATE allows you to concentrate on developing applications without building the IoT system. Developers are able to easily receive and control data from IoT terminals simply by using the REST API. The simplified direct control (downlink) is the most remarkable features of the BraveGATE. It is also easy to combine and integrate with each existing platform.
Braveridge has built various standard devices for mass production compatible with BraveGATE. Users can simply focus on application development and start the PoC (proof of concept) at an early stage.
BraveGATE is a powerful cloud IoT platform that helps users shorten development lead-time, cut cost which have been always been the issues for IoT system development, and to introduce it for speedy practical applications.
FEATURES of BraveGATE
1. Short lead-time for Service Development
In a typical field of IoT development so far, enormous time and resources were required for developing and verifying the connection and communication between IoT terminal and cloud, between cloud and application, and finally for verification and debugging of the entire system. BraveGATE is designed to achieve "1 month to the start of PoC, 6 months to the start delivering mass production product".
Since cloud service to IoT terminal are provided as a complete product, your entire system can be completed just by developing the application. This allows you to cut down the service development lead-time all at once.
2. Dynamic device control using API
"After all, devices collect data in the beginning. All you need to do is go get the data you need when you need them."
BraveGATE is designed based on this concept. Developers can dynamically control IoT terminals with just the REST API, without any other complex systems.
By "acquiring the necessary data when needed", the communication data as well as the current consumption are significantly reduced.
3. Building a secure IoT system
The LPWA (low consumption, long-distance wireless) communication unit uses the LTE closed network, and the control program is composed of Firmware without the use of OS. This makes it completely inaccessible from external networks. The Bluetooth LE communication part applies Braveridge's originally developed profile, which is impossible to be decrypted. Also, "BraveGATE CORE" serves only as an interface for passing commands and data, without saving data. We have built a highly secure system of unique IoT security that can only be accomplished with our powerful background as a hardware manufacturer.
BraveGATE DEVELOPMENT BACKGROUND
Braveridge Co., Ltd. CEO Yasunari Kohashi
We have been developing IoT devices for many years and faced the reality of developing cloud IoT systems in particular takes several months for PoC completion and more than a year for the cloud system. Additionally, as all layers of the system are divided, debugging them requires enormous time and resources. Even with off-the-shelf cloud platforms, it will still take a considerable amount of time and resources to be completed.
It took us four and a half years to reach our target lead-time of "One month to start PoC, six months to complete cloud IoT" After completely resolving the communication instability of the LTE specification IoT terminal, long-term operation test and debugging, we finally accomplished our goal.
We are confident of the experience of importability and stability you get from our BraveGATE, a new cloud IoT platform that is innovative, simple and multifunctional, invented by a hardware company.
LEAFLET
PDF
Japanese version only
DOCUMENTS
Japanese version only
BraveGATE EXPERIENCE KIT
"BraveGATE EXPERIENCE KIT" is an innovative value kit that allows you to experience the powerful capabilities of the BraveGATE platform for technical verification of the examination and development of IoT services. For immediate operation, the set includes LTE-BLE router "BraveROUTER" & BraveGATE compatible sensor device "BraveTETRA", BraveGATE usage fee and communication fee for 3 months.

CONTENTS
LTE-BLE router "BraveROUTE": 1 unit
Sensor Device "BraveTETRA" (inclusive of temperature, humidity, illuminance, acceleration sensor, all with waterproof spec.) : 4 units
BraveGATE usage fee (including communication fee): 3 months
See Details Here
See here for details of LTE-BLE router "BraveROUTE"
BraveGATE READY DEVICES(TBA)
BraveTETRA : Inclusive of temperature, humidity, illuminance, acceleration sensor (waterproof spec.)
Human Sensor
Open and Close Sensor
GPS Tracker
etc..
IMPORTANT NOTES
"BraveGATE" can operate only by combining "BraveGATE compatible products" such as Braveridge's LTE-BLE route "BraveROUTE" and BraveGATE compatible sensor devices, with BraveSIM. It cannot function with gateways, routers, devices, and SIMs made by other manufactures.
The communication line provided by BraveGATE is a closed network connection. Only our BraveSIM is supported.
It cannot be used in places where mobile phones are not available.
Even at places where mobile phones can be connected, we do not guarantee that communication will always be possible.
Please check the BraveGATE contract terms for contract details of the BraveGATE services.
Please note that product functions and specifications are subject to change without prior notice.
QUOTATION
Click here to request a quote for this product.
Contact us