Product
Category
Communication Standards
PRODUCT DESCRIPTION
"BraveROUTE" is an LTE-BLE router that not only aggregates data from Bluetooth®Low Energy devices and connects to cloud via LTE to acquire data, but also allows Bluetooth LE devices to be controlled via a network.
FEATURES
BraveGATE is capable of instructing and controlling end devices any time.
Supports Bluetooth®5.0 Long-Range mode that achieves a communication distance that surpasses the performance of the conventional Bluetooth®︎LE.
Built-in closed SIM card enables secure communication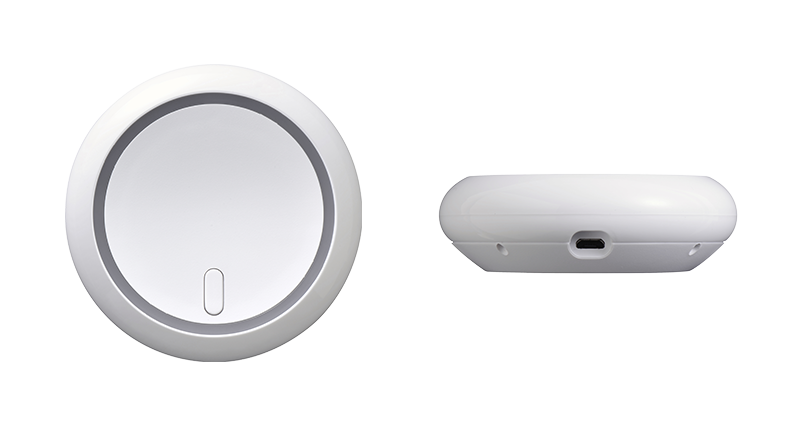 SPECIFICATION
| | |
| --- | --- |
| Model number | BBLTR1-LP |
| Size | Diameter 83 × 26.3mm |
| Weight | 88g |
| Wireless Communication | LTE / Bluetooth®5.0(Long-Range Mode) |
| Battery | Li-Po Rechargeable battery 850mAh for operation during power failure) |
| SIM | BraveSIM |
| Operating temperature range | 0℃ to 45℃ |
| LED Display | 12 Full Color Lights |
| Number of connectable devices | Up to 8 connectable devices |
| Radio Standard | Japan Radio Law Certification |
BraveGATE EXPERIENCE KIT

"BraveGATE EXPERIENCE KIT" is an innovative value kit that allows you to experience the powerful capabilities of the BraveGATE platform for technical verification of the examination and development of IoT services. For immediate operation, the set includes LTE-BLE router "BraveROUTER" & BraveGATE compatible sensor device "BraveTETRA", BraveGATE usage fee and communication fee for 3 months.
●See Details Here
●BraveGATE: Product Information
IMPORTANT NOTES
To use the LTE-BLE router "Brave ROUTE", you need to subscribe to the Brave GATE service.
Please check the BraveGATE contract terms for contract details of the BraveGATE services.
The LTE-BLE router "Brave ROUTE" works only with the combination of Braveridge's BraveGATE compatible sensor device, IoT platform BraveGATE and BraveSIM. It cannot be operated using a third-party SIM, third-party device, third-party gateway / router, etc.
The communication line provided by BraveGATE is a closed network connection. Only our BraveSIM is supported.
It cannot be used in places where mobile phones are not available.
Even at places where mobile phones can be connected, we do not guarantee that communication will always be possible.
The SIM built into the LTE-BLE router "Brave ROUTE" cannot be replaced.
Regardless of the purpose, once the case of LTE-BLE router is opened, it will not be covered by warranty.
Please note that product functions and specifications are subject to change without prior notice.
QUOTATION
Click here to request a quote for this product.
Contact us